Let's try an experiment: take out your phone and open your email app. Count the number of words that show for each email's subject and first line. Now visit Google, perform a search, and count the words that appear for each entry on the search engine results page (known as a SERP).
We did this exercise to underscore how critical writing good marketing copy can be – you have a very low wordcount available to attract your audience's clicks, and an even smaller margin for error with low-performing copy. Which is why today we're presenting the 10 commandments of marketing copy for 2019 (with a little help from a classic holiday movie – The Ten Commandments)
First, let's start with some statistics for how people consume copy online.
Online Reading Behavior Statistics
What's driving this behavior? Abundance. Our mind's natural reaction when confronting a large number of anything (people in a crowd, websites, an endless buffet, etc.) is to quickly scan our options before deciding where to focus based on some sensory cue. And that's the competitive environment you need to consider when writing your marketing copy.
So with that in mind, let's see how you can write the most effective marketing copy in 2019.
Marketing Copy Commandment 1: Thou Shalt Be Relevant to Your Audience's Interests
How? Perform Keyword and Audience Research Before Writing
With the chances of your message reaching your audience already slim, it's critical that your marketing copy be hyper-relevant to your audience or you'll lose out to a competitor who has done a better job of capturing their attention. Fortunately, a number of tools exist to help you understand what copy piques your audience's interest.
Market research is time consuming, but speaking directly with your audience will yield a wealth of copy inspiration. High-level questions to focus on include:
Why did you choose our company?
What's your biggest challenge, and why?
What are you looking for in a product/service?
A faster way to get similar answers is through keyword research. Google Ads' keyword planner tool is a great resource – simply type in the terms you're thinking of writing about and you'll see search volume for those phrases returned. If search volume is low, you'll know that what you want to focus on might not be relevant to a large number of people.
Marketing Copy Commandment 2: Thou Shalt Promote Your Value Proposition at All Times
How? Continually write and edit from your audience's viewpoint – what would make them take action?
Once you have your basic topics down, it's time to think about why your audience will care. This is where your value proposition – the benefit you provide to your audience – comes into play. Any copy that you're writing should clearly and concisely work in the following elements:
What benefit you deliver to your audience
Why your audience should respond to your call to action
How they can do so
This concept seems simple, but is often overlooked in the pressure of trying to cram in everything we want to say to our audience. Remember, the only thing that truly matters to an audience is "why should I care".
Marketing Copy Commandment 3: Thou Shalt Not Preamble
How? Edit ruthlessly.
Your readers have thousands of other emails and websites to get to. Get to your point as quickly as possible (before you reader has to scroll or even open your site), and resist the urge to be cute or try and trick your readers (this is especially important for email subject lines).
Brevity can be difficult, but it's a critical piece of the marketing copy puzzle. If your audience wants more information, they'll click further. Your job is to get them to action as quickly as possible.
Marketing Copy Commandment 4: Thou Shalt Write with Compelling Narrative Flow
How? Write like a sitcom and think set-up/punchline. And don't forget AIDA.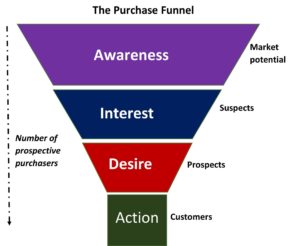 The next time you sit down to watch a sitcom, pay attention to how the dialogue is structured. You'll notice that there's a very consistent formula in which the first line is a set-up and the second line is a punchline. You can use this formula in your copy – the first line sets up the audience need/benefit (your value proposition), while the second tells them how to get it (your call to action)
In addition, you'll also want to have enough meat that those who are looking for more information are able to find what they want. That's where your narrative flow comes in, and you can build that flow with a marketing strategy acronym called AIDA. This acronym classifies the typical steps in the purchase process:
Awareness
Interest
Desire
Action
If you structure your content in this way, it will give you a good framework on which to build a compelling narrative that drives action.
Marketing Copy Commandment 5: Thou Shalt Be Unique
How? Remember your value proposition and focus on what no one else is saying.
One of the biggest things to keep in mind when writing your copy is that there are thousands of businesses just like yours trying to get the same message across to the same audience. So when you're trying to make your marketing copy stand out, begin by reviewing what your competition is saying and then consider what you need to say to stand out.
Recently, we worked with one of our SEM/PPC clients who was facing declining click-through rates. The first place we started was to look at their competitors' ads, and we found that a number of competitors were copying our ads almost word for word. The solution was to emphasize our value proposition in our copy and test uniquely "fun" ads that captured the client's brand in a way that the other competitors couldn't.
Marketing Copy Commandment 6:  Thou Shalt Put Your CTA Above All Scroll Points
How? Test your layouts on the most common screen sizes.
Here we're venturing into design territory, but copy and design go hand-in-hand. It's widely accepted among marketers that the majority of purchase decisions are made before a potential customer even comes to your website. So, you want to reduce any possible friction to capturing those people who have already made up their minds and put your CTA at the top of the screen.
Any further details can come after your form or main CTA to inform those who are doing more detailed research, but it's critical to get that CTA up as high as possible.
Marketing Copy Commandment 7: Thou Shalt Personalize Where Possible
How? Plan your copy to use the personalization capabilities in your email/marketing automation suite.
Personalized marketing copy in emails simply drives better results. While data varies, one source notes that personalized subject lines increase email open rates by 26%.
The key to making your copy personalized often lies in your underlying data and marketing automation platforms – you can't personalize copy without knowing where someone is in their journey (or having their first name in your CRM). So, when you're crafting your copy think ahead to how you'd want to be addressed and what will get your audience's attention, then work backward from those goals.
Marketing Copy Commandment 8: Thou Shalt Never Forget SEO Metadata 
How? Incorporate metadata into your marketing copywriting process.
Marketing copywriting doesn't just extend to the words on a page. Image alt-tags, page meta-data, H tags, and more all factor into Google's ranking algorithms and how people view your content. Very often, your audience makes a decision to engage before they've actually seen any "on-page" copy from your site other than a page title. Your metadata sells your content, and focusing here is just as important as the copy in your post.
Thinking back to Commandment 1, you want to have your most relevant keywords sprinkled throughout your metadata as well. When writing copy for say a landing page, make sure to include the page excerpt and title for SERPs as well.
Marketing Copy Commandment 9: Thou Shalt Match Your Tone to Your Brand
How? Develop a style guide.
Every brand is different. Some are buttoned up and business-like, others are fun and informal. Think about the tonal difference in an email greeting between Hello and Hi as an example, and ask yourself which one your brand should use.
Ideally, your brand will have a style guide that governs acceptable marketing copy usage. If you don't have one, it's simple to create a list of appropriate and inappropriate (for your brand) phrasing. The important thing is to share the language in your organization and make sure that it accurately reflects who your audience expects you to be and how you want to represent yourself.
Marketing Copy Commandment 10: Thou Shalt Continually Test and Revise Your Copy
How? Choose your performance metrics and test variations.
Even after you've written exceptional marketing copy, put your assets together, and pushed your deliverable out the door, you're not quite done. Marketing copy exists to drive action, and those actions are measurable. So, take note of the performance thresholds you need to meet, and test different copy variants until you get there.
A few of the better tools for doing so:
For page traffic and behavior: Google Analytics
For organic search performance: Google Search Console
For on-site copy testing: Google Optimize (for smaller scale efforts) or Optimizely (for larger initiatives)
For email testing: the majority of modern email systems incorporate A/B testing into their capabilities
Conclusion
We hope this primer on writing marketing copy hasn't proved too daunting. If you're struggling or would like to discuss content marketing for your business, please feel free to contact Young Marketing Consulting and we'll be happy to help.
https://www.youngmarketingconsulting.com/wp-content/uploads/2020/06/YMC-LOGO-lg-1-300x60.png
0
0
Tim Young
https://www.youngmarketingconsulting.com/wp-content/uploads/2020/06/YMC-LOGO-lg-1-300x60.png
Tim Young
2018-10-26 14:03:04
2019-02-08 18:05:05
The 10 Commandments of Marketing Copy for 2019