Companies hire marketing consultants for many reasons: to support initiatives outside their existing team's scope, to bring an expert perspective to a particular challenge, or to improve execution in daily operations. The job requirements can be quite broad, which is why so many marketing consultants spend so much time clarifying their scopes of work!
But in our experience, the most important thing a marketing consultant can do for you is rarely one that's included in an RFP: build an achievable path to reach your objectives and mature your business.
Doing so requires evaluation in areas you might not consider to be within your initial scope, such as:
Audience fit and market position
Software and process infrastructure
Team composition and skillset
Database management and segmentation
Brand and creative review
That's why in today's post we're looking at what, exactly, a marketing consultant SHOULD do for you.
Market Research & Marketing ROI Evaluation
1. A marketing consultant should gather data to help you understand what the numbers say about your business.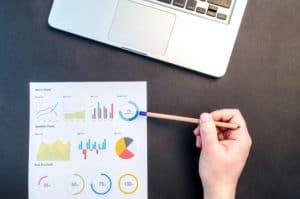 Understanding your customers' needs and assessing and how well you're meeting them is a foundational concept for every marketer. Gathering this data will help you understand areas such as the following:
Growth Opportunities:

How big is your market?
Who are your competitors?
What untapped needs might exist?

Marketing ROI:

What return are you getting on your marketing investments?
What return should you expect to get from new campaigns?
Where are your highest-revenue leads coming from?

Brand Competitiveness:

What does your target audience think about your product or service?
Does the brand experience you deliver match the brand experience you want to deliver?
How visible is your brand online?
Is your value proposition clear and compelling?
Many organizations will have this information readily available. A good marketing consultant should ask to review your past market research and campaign performance data to build their understanding of your organization. If you don't have this information readily available, you may want to consider including it in your scope.
Branding and Design
2. A marketing consultant should assess gaps in how you want to be seen by your audience vs. how they experience your brand.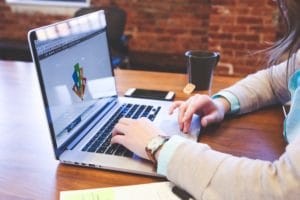 Once you understand exactly what your audience is looking for, the next step is to clarify your value proposition and ensure that you're communicating it clearly and effectively. For a marketing consultant, this means conducting a brand evaluation.
And while many marketers still think of a brand as a logo and color scheme, your brand encompasses every message, call to action, and paragraph of copy you put out into the market. Each communication should work to emphasize the unique benefit you provide to your customers, while every interaction should make good on your brand promise.  If they don't, it's time to revise your branding.
A rebranding typically includes:
Crafting an identity package that includes logos, fonts, colors, and iconography
Revising your websites, landing pages, email templates, digital and print ads, and other campaign assets
Designing materials for trade shows, presentations, and other marketing opportunities
Verbal identity materials such as copy bibles, elevator pitches, differentiation statements, and more
Branding also includes designing an ideal customer experience, creating strategies to address complaints, and ensuring that your organization receives constant feedback on any shifts in market needs. As this can be quite a large initiative, a good marketing consultant will be able to help you identify where to focus first for maximum results.
Marketing Strategy
3. A marketing consultant should identify the most effective way to reach your audience given your existing resources.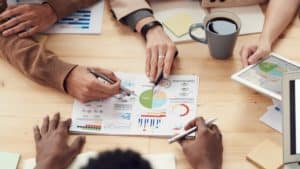 With your brand in place, it's time to think about how you'll reach your audience. This is where executive planning sessions and corporate missions meet the reality of available resources. At this stage, your marketing consultant should help you:
Identify strategies to break through the market clutter and capture your audience
Set goals for your campaigns and determine which performance metrics matter most
Segment and prioritize your target audiences
Forecast ROI based on budget and campaign opportunities
Create unified themes and messaging
Identify any operational needs that will be required to deliver on the above
This last point is, in our opinion, one of the most critical yet often-overlooked components to successful marketing. Everyone will have lofty goals in a strategic planning session, but your consultant's job will be to bring those down to earth and identify whether you have the staff, budget, or tools to accomplish your goals. If not, they'll need to be built before your campaign is put into motion.
Campaign Execution
4. A marketing consultant should help identify what's working and what isn't and lay out a plan for improvement.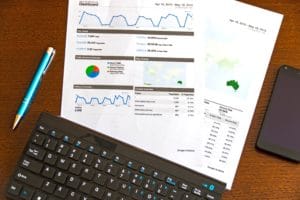 We've finally arrived at the point where most companies hire a marketing consultant: campaign execution and evaluation. While proper attention to the previous activities we've discussed will help your campaigns achieve stronger results, every plan will need to be adjusted based on market response.
During campaign execution, you should expect your marketing consultant to approach things from an analytical perspective. Modern marketing generates a significant amount of data, and testing and measuring different executions and messaging will be critical to optimize your campaigns and generate positive ROI. Your consultant should walk you through the following:
How have past campaigns performed?
Where do your most profitable customers come from?
What messages will go to which audiences at what times (the campaign calendar)?
How will effectiveness be tracked?
What are our leading campaign indicators?
How will progress be reported?
What benchmarks must be hit for optimal performance
With these items clarified, it's time to dig into the nuts and bolts of channel-by-channel marketing to build your media/advertising plan, push that message into the market, and keep a close eye on initial performance.
Your marketing consultant should provide benchmarks for ideal performance in your chosen channel, along with leading indicators required to generate a positive ROI. Your campaigns should include a number of testing elements to identify things like the most effective calls-to-action, the best-performing creative, etc. that can be leveraged and amplified as campaign performance data comes in. And if poor performance is observed, it should be acted on immediately.
Conclusion – What Exactly Should a Marketing Consultant Do?
To sum up, your marketing consultant should help you:
Gather data and help you understand your performance
Assess brand message and experience gaps
Identify the most effective approach to reach your audience
Continually improve your marketing based on observed performance
We hope this guide has helped you understand exactly what a marketing consultant does and how they can help. If you have any questions or would like to discuss an engagement, contact one of our expert marketing consultants today.  
https://www.youngmarketingconsulting.com/wp-content/uploads/2020/04/what-does-a-marketing-consultant-do.jpg
385
465
Tim Young
https://www.youngmarketingconsulting.com/wp-content/uploads/2020/06/YMC-LOGO-lg-1-300x60.png
Tim Young
2020-04-10 13:01:18
2020-05-13 15:16:49
What, Exactly, Does a Marketing Consultant Do?